Our secret is finally out! And it feels SO GOOD! God has a funny way of giving everything you need, at exactly the most inconvenient times (kidding! kidding!) Kind of, LOL. I launched my new business, we found out our new house will be finished in the spring of 2022… oh, and now we're having a baby too. In all seriousness though, there aren't enough prayers to thank God for this true miracle. Connor changed my life forever, and solidified that I was made for motherhood. Watching my body change, seeing my baby's heartbeat for the first time, and telling my husband the news is something I don't take for granted. I have friends and family that have suffered from loss and heartbreak; begging with God to give them the gift of a child. I know my situation is ideal. I know I'm one of the lucky ones. With thankfulness comes heartache too; thinking of those that are longing to have a baby of their own. If you're reading this and you're struggling or have struggled, my heart is with you.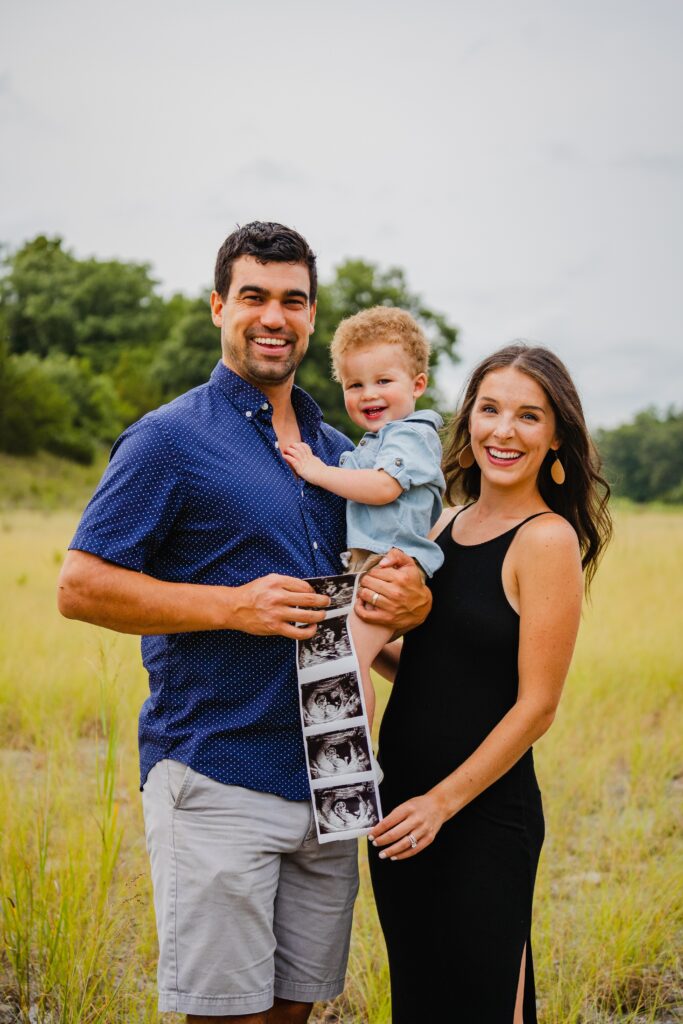 Now on to the stuff everyone asks about!
Jake and I knew we wanted to try for baby #2 once Connor turned one. Having a sibling so close in age is hard, but inevitably in the future, it turns into a gift. I dreamt of giving Connor a sibling, in hopes of repeating history with the strong bond I grew up seeing in my two older brothers.
With trying for a baby, comes a lot of pregnancy tests. I pretty much kept one in my purse/diaper bag at all times. (Do you think I'm crazy yet?!) We were packing up and heading to my in-laws for our annual beach trip and I knew testing would fall mid week of our visit. Jake and I also had a nice anniversary dinner planned, which of course would involve a glass of bubbly or two. I secretly packed a test in my bag, to take just before our dinner, to be sure I was safely drinking.
The day before our 3rd Anniversary, Jake and his dad went on an all day, deep sea fishing trip. The girls (and Connor) decided to hop over to town, get some shopping in, and of course head to the beach later with a glass of Rose'. I got back, put Con down for his nap, and was about to head to the kitchen to pour myself a vacation drink… but my gut told me to take a test first. So like many times before, I peed on that dinky stick and waited for a negative to show up.
*30 seconds later*
…two lines. Two very faint lines showed up; my whole body was trembling. Tears filled my eyes, and I felt like I could barely catch my breath. There was no way I could walk out of the bathroom without my MIL seeing me and asking WHY THE HECK WAS I CRYING?! Without thinking, I knew I needed to tell her immediately. Yep, my MIL found out not even 2 minutes after I had taken a test, in the bathroom, with me. It wasn't how I expected to tell her, trust me, but it was a moment we'll both remember for the rest of our lives. Ana doesn't have any daughters, so it's really special knowing she experienced that with me.
Whew! That was a long one.. but it's a day I hope I never forget. I didn't surprise Jake when I was pregnant with Connor, so telling him that evening was fun. We ended up celebrating our anniversary the next night with ginger beer rather than champagne, but I wouldn't change that for anything.
Overall I would say my symptoms are almost identical to when I was pregnant with Connor. The nausea lasted a bit longer (weeks 6-12), and at times a bit more severe; but thankfully I didn't have as many food aversions. Eggo waffles were my go-to on the rougher days.

Right now, I'm almost 15 weeks, and still don't have many cravings. I gravitate towards saltier things, and sour candy keeps me from feeling sick. But truthfully, I'm the most boring pregnant person ever. I'm also showing a bit sooner than last pregnancy. Apparently my uterus knows exactly what to do!
With my last pregnancy I was a workout psycho, this time though; I'm giving myself some grace. Mainly because I just don't have the time with a toddler running around. I try to walk or run every day, and squeeze in a Peloton 20 min HIIT workout. I've accepted that this short season of life is just different. Maybe one day I'll run another marathon or see an ab again. Right now though, my priorities are just adjusted. And accepting that is a really great feeling 🙂

The #1 question people have asked us is if we are going to find out the gender this time. (If you're new here, we waited to find out the first time, and were VERY surprised when we had Connor.) The answer is, nope! Surprise #2 is totally happening. Hearing my husband tell me "It's a boy" was one of the greatest moments of my life. Guessing and dreaming for 9 months is way too fun too. If you ever have a chance to wait, DO IT! I promise you won't regret it. With that being said… I'm team boy! And Jake is team girl.

Come February we will be ready to meet this sweet baby, no matter if it's a boy or girl. And if you've been following along, our brand new build down in Waynesville will be finished not long after that. Talk about crazy timing. A 2 year old, a newborn, and a brand new home… because why not keep it interesting?!
We are so thankful for all of the love, and still in a little bit of disbelief that we are going to have TWO KIDS next year. (Are we sure we're ready for this?) Ready or not, we couldn't be happier about it!
XOXO