Believe it or not, I am officially in my THIRD TRIMESTER! Part of me feels like the second trimester absolutely flew by, but then another part of me doesn't even remember when my second trimester started HA! (I legitimately had to go back and reread my First Trimester Recap to remember my exact feelings and when it was.) As of Monday, I am in week 30, which sounds REALLY PREGNANT in my opinion.
Up until week 26/27ish, I felt really great! So great in fact, I would often tell people that I forgot I was even pregnant at times. Yeah the baby was/has been kicking, punching, rolling, and doing karate inside me for what feels like 20 hours a day, and I've been unable to walk up my stairs without getting out of breath since the first month or so of pregnancy, but overall, I had zero complaints! Around 27 weeks, lower back pain started to slowly creep in, my exhaustion levels were hitting me like I was in my first trimester again, and sleeping was getting harder and harder. Honestly, I hate to even complain now at 30 weeks because I know some women would LOVE to have had the pregnancy I've had. (Zero getting sick, zero swelling, still fitting in the majority of my clothes, keeping up with a workout routine, etc. BUT since this IS a pregnancy update, I want to give you complete honesty!)
By 5pm my lower back is DONE at the whole standing up thing, and my belly legit feels like it might explode because there is no possible way my skin can stretch anymore. I spend most of my evenings lying on my side with my Snoogle, our fire place roaring, and Jake being an ANGEL helping with dinner, laundry, or whatever else I haven't finished on my to-do list that day. I've learned that my body is still perfectly capable of working out, but it HAS to be done in the early morning (no problem because I'm not sleeping anyways!). If I'm not on my couch at night watching Gilmore Girls or Hallmark Christmas movies, I'm soaking in the bath tub and chatting it up with baby.
If you read my first trimester recap, I told you that I had a feeling that baby Hilgy was a girl, and Jake thought boy. Now though, our answers have completely flipped! I am mentally prepared and fully anticipating a baby boy, while Jake is completely certain it's a girl! We have names picked out for both (that we are keeping a secret until the birth)… but I guess we will all just wait and seeeee! PS we haven't regretted not find out the gender at all! Honestly, it's so fun, and really keeps the most important thing in perspective; just having a HEALTHY baby, who cares the gender?!
At the beginning of my second trimester, I had a serious craving for sour gummy candies. We were traveling around Canada, and I'm not kidding you, I had to have some sort of sour gummy candy everyday. I kept them in my purse, and stocked up at every airport or gas station we stopped at. That craving truly only lasted a month or so though and then I was over it. Since then, I haven't craved much more. More so than not, I won't even have an appetite. Jake will make his own meal and I'll snack on whatever or make an egg for dinner. #MostBoringPregnantLadyEVER!!
Our nursery is coming together, with mainly just organizing and sorting out shower gifts and clothes now. We kept it very neutral [obviously], with hints of classic Winnie The Pooh. Once baby is here, we will add the appropriate colors 😉
Products I've been loving:
My Snoogle pillow is a GAME CHANGER! I initially didn't understand the hype around a pregnancy body pillow, but now I don't know if I would get even a minute of sleep without it. It's help keep my hips from aching, and makes the perfect "belly prop" 😉
I've gone through an entire large tube of Burt's Bees Belly Butter, but now trying Mommy Knows Best, Stretch Mark Vanishing Cream. I am lucky to have not gotten any stretch marks YET (thankful for good genes), but I guess people SWEAR by this brand. Stay tuned for an update.
O'Keeffe's Healthy Feet, foot cream. This obviously isn't a pregnancy product, but it has helped my dry skin SO MUCH! Especially during pregnancy. (I'm lotioning up ALL the places if you know what I mean.)
PinkBlush Maternity has the cutest options for stylish maternity clothes! I bought both of these pants, that don't look maternity at all, in my opinion. And I also purchased both of these dresses for our maternity/family photos. Would highly recommend this website to all my pregnant friends!
Lastly, all of my husband's shirts and sweatshirts are on my favorites list. Let's get real here…. momma needs belly room, and it's saving me from spending all my money on new lounge clothes. Thanks, Jake!
We are now less than 10 weeks from meeting our baby, and emotions are truly at an all time high. One minute I feel on top of the world, ready for this new adventure, and the next minute I am in tears because I truly don't know how I am going to handle it all. Random songs and commercials make me cry, irrelevant tasks make me cry, just about everything makes me cry now! Jake and I are both praying to make it through the holidays with baby still cozied up and cooking inside of me… but after that, we are ready to meet our miracle! TIME IS FLYING <3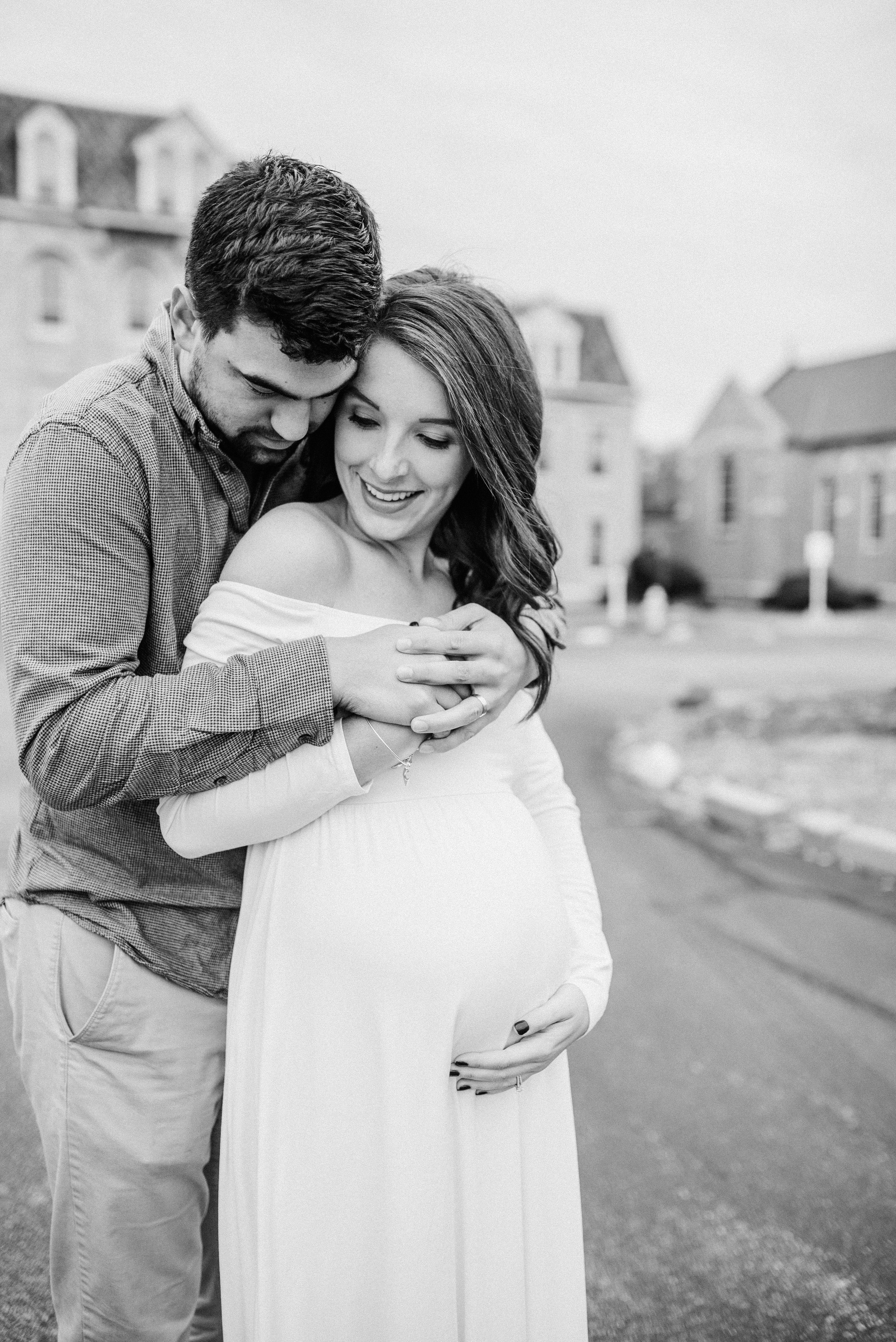 Maternity photos captured by Kayla and Caleb Photography <3
XOXO,