When I initially planned out my posts for May, it was no question that I would post for Mother's Day. It's easy content and I knew a common question I could cover was "What to Wear as a Mother." Once I really started writing though, I didn't realize I would talk about so much more than just clothes. I'll start you off with the business side of this post; "What to Wear as Mother of the Bride/Groom." But then keep reading… because y'all know I have a lot of emotions, and sappiness is my specialty.
A very common question I get is, "I'm the Mother of the Bride/Groom. What should I wear?" OR "I'm the mother and I don't want to dress too matronly." My immediate response? YEP, I GET IT. Sometimes I truly think finding a gown for the mother(s) is harder than a bride finding her own gown.
The first thing you want to do is make sure you are shopping with plenty of time. Do I sound like a broken record yet? Similar to what we tell a bride, designer gowns take time to get in (12-14 weeks to be exact). So unless you can fit into a sample, and you are also pleased with the color hanging on the rack, shopping two months before the wear date may not cut it for you. (Keep in mind I'm not speaking for department stores such as Nordstrom, Dillard's, or Von Maur.) If you are indeed in love with a sample gown but it doesn't fit you perfectly, remember that most can be taken in to your size or let out depending on the seams. It's ALWAYS worth asking a seamstress about. Samples save money! Who doesn't want that?!
When helping a mother, of course I ask about the date of the event, colors and styles she's interested in, but I also mention a few other very important tips:
1) What is the other mother wearing? Typically, the Mother of the BRIDE gets the power to choose her gown first, being the main host of the party. Make sure both mothers are coordinating however they decide. If a MOB is wearing a long gown, the Mother of the Groom (MOG) should follow. *Same goes if she is wearing a shorter gown. MOB sets the tone.
2) What color are the bridesmaids and men wearing? Some mothers think they have to wear within the brides "color palette." For example, if a bride's colors are blush and gold, mothers think they must wear blush or gold. Wrong. Unless the bride requests that you wear those colors, you want to wear something that will simply compliment… or else it's going to look like you tried to match the bridal party, and failed.
3) Black is always in and always fabulous, especially for an evening wedding or black tie event. Unless the bride tells you no… the "black for funerals only" rule is OUT.
Overall rule of thumb; make the bride happy (of course), but think about photos that will be taken that day. Compliment your husband, your son(s) or daughter(s) in the bridal party. Matching isn't always best. Don't worry, you'll be the second best looking lady there 😉
"A woman that carries the strength of steel, yet the gentleness of a magnolia. "

-Steel Magnolias
Now for the sappy part… trying to articulate how much my mom means to me in a single blog post. (Which is seemingly impossible because let's be real, this lady GAVE ME LIFE!!)
Leading up to my wedding day, my mom was there for almost every single decision that needed to be made, every hour-long meltdown on the phone, and every one of those really special moments too. A couple memories that come to mind… When my mom and I went to pick out linens, we took over an HOUR to decide on the tablecloth for our wedding cake. At one point we couldn't stop laughing because we knew we were being so ridiculous. Another sweet memory was us staying up past midnight stuffing invitations. We were tired, delusional, and of course… more tears were shed. Those are the days I'll never forget.
But you know what I think is super sad when the wedding day comes? After all the hard work moms put into the prep, the Mother of the Bride gets a bit forgotten during the day of. Dad steps in and walks the bride down the aisle. Dad gets to have that special dance with his daughter. And Dad gets to stand up to thank all the guests for coming. Please don't get me wrong, I love my dad and I can whole heartedly say that seeing him the day of my wedding was one of my most overwhelming and emotional moments I've ever experienced in my life. Just typing it out now puts a lump in my throat and tears in my eyes. BUT I just didn't feel right not acknowledging my mom too, after all the work she helped put in with me.
Leading up to my big day I made sure to plan out just a couple of small things to make sure my mom felt loved too. For example, I had my florist hide an extra loose flower in my bouquet; when I got to the end of the aisle with my dad, we paused and turned to my mom in the pew. A big hug, a whole lot of tears, and a flower was the least I could do.
Another special moment with my mom was riding with just her on the way to the hotel to get dressed. Car rides have always been our thing. In high school she drove me all around the state of Ohio for cheerleading clinics. When I would come home from college, and even to this day, we "run errands" together… but really that just means driving wherever we can think of, mainly just to chat until our jaws hurt. Riding to the venue together one last time as a Good made sense. We didn't chat much, but instead soaked up those last few moments together, trying not to make each other cry and ruin our makeup. It was everything I needed before the chaos.
Regardless of what you choose to do; maybe it's a first dance with your mom AND your dad, or a hand written note just saying thank you, don't forget about her. She deserves this day just as much as you <3
From being small enough to sitting on your lap, to the years of transitioning from daughter and more to friend, to being at the end of the aisle on my wedding day… I could never truly write out how much I appreciate you, Mom. I love you!
Now that I have makeup running down my face, y'all know I have to end on a lighter note. How could I not mention my badass, sassy, and strong Mother-In-Law?! She is the perfect addition to my life when I need a good laugh (or a strong drink HA!) Ana, you have raised the most loving and supportive man, and for that, I am forever grateful. I love you dearly! How lucky did I get having TWO of the best moms out there?!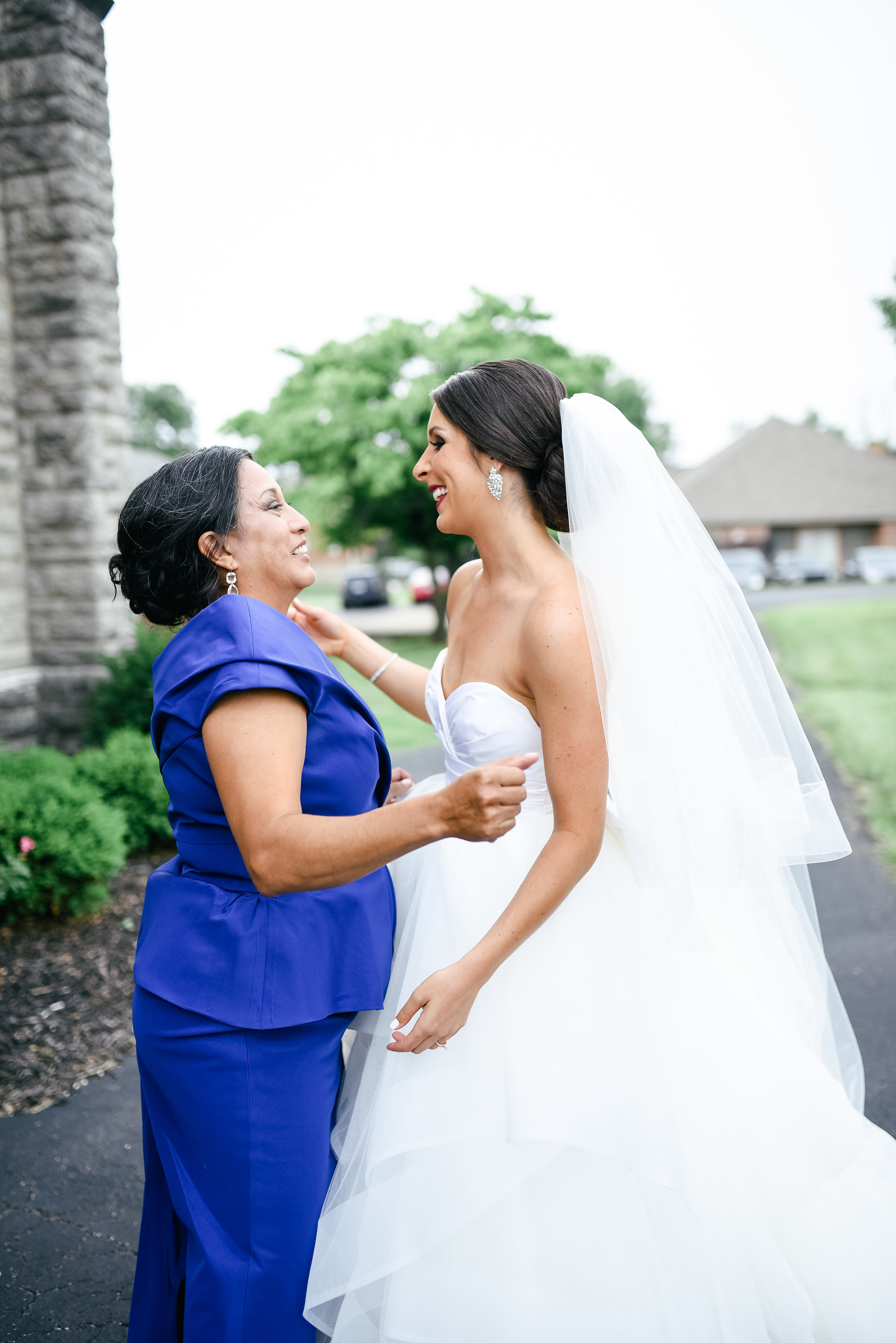 Happy Mother's Day, to all mothers! The world wouldn't be able to function without you. XOXO,