As I dive deeper into the bridal industry as a whole, wedding gowns are what my heart will always fall the hardest for. I truly believe it's the most important piece of clothing you'll ever purchase. It's also one of the biggest purchases you'll make fully with your heart. As my boss always says, "You buy a house with your head, you buy a car with your head, but you buy your wedding gown with your heart." Picking out your wedding gown is such a special and emotional moment. I was that girl that dreamt of the very day I would be with my mom (and mother-in-law) and find the perfect one. And as you could guess… there were a lot of happy tears. I'll cherish that moment forever.
A very fair warning though, there's SO MUCH information I could write about, and I naively thought I could fit it all in a single post. To save you from reading something as long as the encyclopedia, I'm going to hit on main points and answer some FAQs. I'm sure there will be plenty more posts on this topic in the near future though, don't worry 😉
When should I start shopping/buy a dress?
I touched base on this in one of my very first posts, but CONGRATS! You're engaged and your Pinterest board from the last 5 years can finally be used! I would recommend shopping for your wedding gown at least a one year out from your wedding date. This is going to give you plenty of time to relax while your gown is being made/shipped AND through the alterations process. Also, once your gown is purchased, you can move on to your bridesmaids, linens, florals, etc. Let your dress set the tone.
How do I know what style and shape will look good on me?
Keep an open mind when you go into your appointment and try EVERYTHING on! More times than not, girls go in with a certain style already picked out in their mind, but in reality, you won't know what looks good on your body until you're in it. THEN once you figure out your shape; stay true to yourself and your personality. Your wedding day isn't a time to try something new and adventurous or else you'll look back and regret it.
I often ask my brides where they shop for clothes on a regular basis, and that helps me figure out their personality. Do you shop at J Crew & GAP? …You're probably a "less is more" classic, kind of girl. Free People or Anthro? …Boho vibes all the way! Take that same style and just AMP IT UP for your wedding day!
Whether you choose something more timeless or trendy, you have to be "100%, I never want to take it off", absolutely in love with it!
Okay, so you think I should try EVERYTHING on?!
Yes! But with one exception…
Make sure when you are heading into your appointments, you set a budget! Whether it's a $1,000 or up to $10,000, every penny counts when you're planning a wedding. It's important to not only chat with your guests about this (to avoid someone begging you to try on a gown that's way out of your price range), but also make sure to let your consultant know, so she can respect your wishes as well. Nothing is worse than seeing a bride try on a gown that's over her budget, "just for fun"… only to see her in tears because now she's in love. "Don't test drive the Range Rover, if you can only afford the Honda"… remember that one!
Can I customize my gown?
Absolutely! Don't be afraid to make your gown YOURS! I often tell my brides, if you want to slightly change or add something, just ASK! Between customizing through the designer or having the ability to work with a local seamstress, anything is possible! Some frequent requests are; adding straps, adding beading or lace, removing some "poof" in ballgowns, or even building up the neckline to something more modest with sleeves. Remember though, there's a fine line between customizing to make the gown your own, and then trying to change the gown so much that maybe you just need to keep shopping around.
What size should I order? I'm trying to lose weight!
BRIDES, BRIDESMAIDS, LADIES! LISTEN UP! Bridal sizing is weird. (I swear it was invented by a man.) Here's my go-to textbook answer….Bridal gown sizes are two sizes bigger than normal street clothes. For example, a bridal size 10, will fit like a street size 6. A bridal size 14, will fit like a street size 10. I encourage brides to ignore the number since it's not only off from the norm, but also because the gown with be cut exactly to fit your body during alterations anyways.
If you're trying to lose weight, do your thing, girl! Order as if you were getting married tomorrow. Your seamstress will be able to adjust according to your weight. The last thing you want to do is stress yourself out to fit into that smaller number.
Who should I bring to my appointment?
Can I be honest with you for a second? And you swear you won't be mad at me for saying it? I can no longer watch Say Yes to the Dress. And if you tell me that you've "seen every episode" and "know all about dresses now"… I will pretend like I didn't hear you. Just kidding haha (not really though). Okay maybe that's dramatic, but let me tell you, bridal appointments are NOT like the TV show. Unfortunately, it has caused more problems in the salon than not. With that being said, keep your group small, or else you may lose yourself in the shopping process. I see it often; girls bring an entire entourage with them to shop, and then all of a sudden Aunt Susie is grabbing a gown that's twice the budget, and your old college roommate is begging you to try on the biggest ball gown in the store (after you've already narrowed it down to your top 3 favorites). Suddenly everyone is saying "I", instead of focusing on what YOU want.
The smaller the group you bring, the more special your dress will be on your wedding day. The entire appointment will be easier on your heart too 🙂 I can say with confidence that having just my mom and mother-in-law at my appointment was exactly what I needed, and something I believe that they both deserved. Bring your most special people… because they deserve it just as much as you do. <3
What about veil, jewelry, and other accessories?
Your veil, jewelry, and other accessories are entirely up to you/a very personal preference. I will always encourage a bride to wear a veil because come on… that's what makes any bride tear up. It truly is the icing on the cake. Plus, a veil makes for FABULOUS pictures! *insert heart eyes here*
Alterations? Tell me how that works!
Keep in mind that most alterations are not included in the cost of the dress, and also need to be factored into your timeline when placing your order. For example, the designers I work with take 4-6 months to arrive in the store, BUT alterations will still need to be done. I recommend starting around 3 months out, and allowing your last fitting to be just a couple weeks prior to your wedding date.
I'm having a destination wedding. How should I travel with my gown?
No matter where your wedding may be, the number one rule in my book when traveling with your wedding gown is… DO NOT LET IT OUT OF YOUR SIGHT! If you or someone you trust is driving to your destination, perfect! Lay it flat in the car (in it's fabric bag), and you're good to go.
If driving is not an option, your next best option is to carry it on the plane with you. DO NOT CHECK YOUR BAG WITH YOUR WEDDING GOWN IN IT! I REPEAT!! Depending on the type of dress, some girls are able to keep the dress in the fabric bag, but you may want to call the airline ahead of time or get to security early in case you need to explain… but usually no one will want to question the bride. HAHA! Another way to carry it on is to roll it into a duffle bag. Yep, you read that right! Again, certain fabrics will have more flexibility than others/won't get as wrinkled.
The third option is to ship the dress… BUT when shipping, make sure the dress is insured, shipped in plenty of time, and also being sent to a human contact. This means that if you are getting married at a resort, make sure it's addressed to your wedding planner specifically. The last thing you need is a wedding gown to be mixed into kitchen supplies in an all-inclusive resort that gets multiple boxes of who-knows-what, a day.
*Regardless of how you get your gown to your final destination, make sure there is a steamer there to touch up what is needed!
What do I do with my dress after my wedding day?
Most brides will eventually send their dress and veil to get cleaned and preserved. Of course you will want to do that before any discoloration happens, but…. stay tuned for a post coming up in the next month. Before you box away that gorgeous gown forever (or until you make your daughter try it on one day), I have a fun idea for ya 😉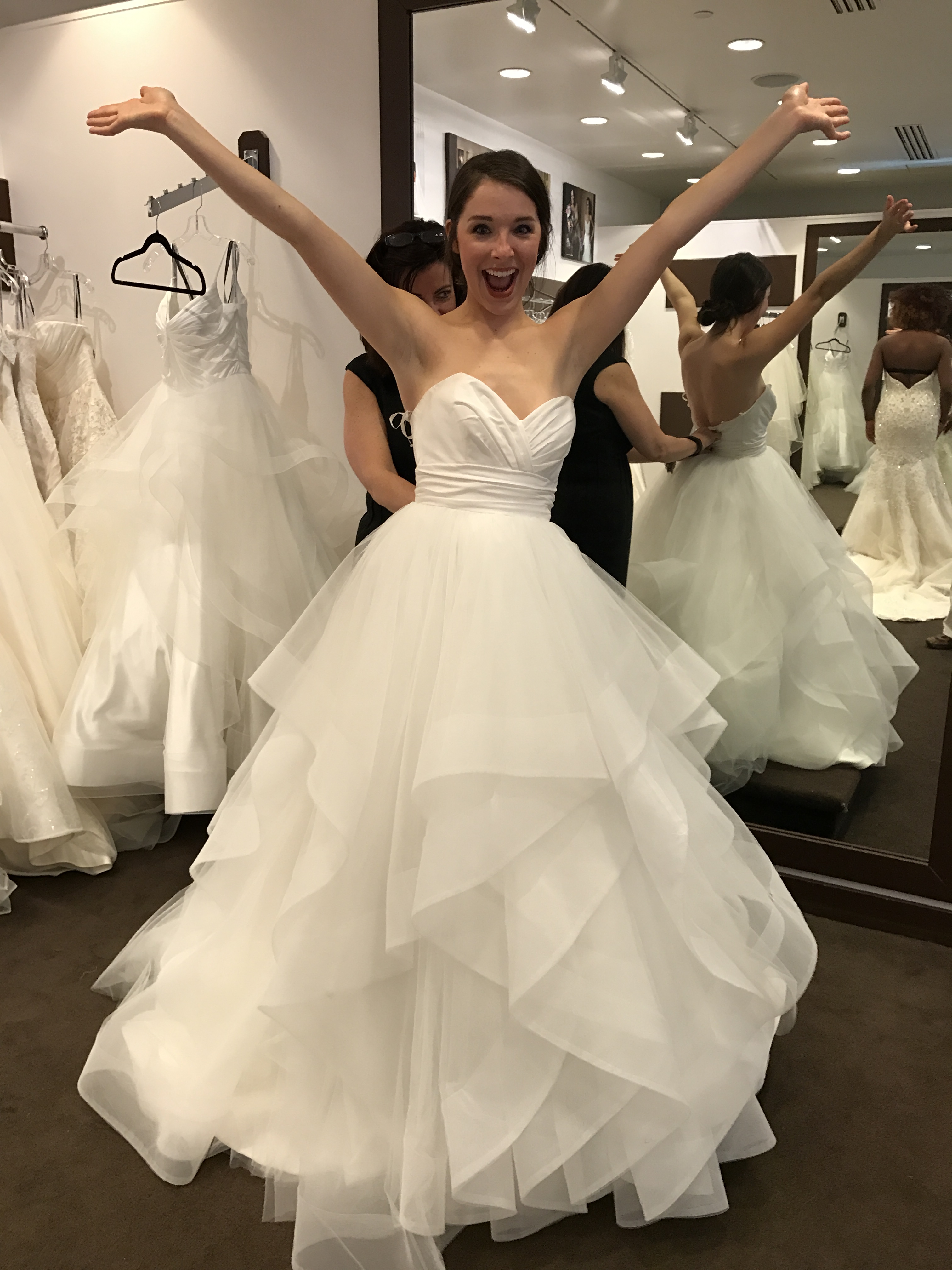 "London" by Hayley Paige, with custom-made bow
Photos captured by, Kayla and Caleb
If you're still reading, you deserve a long, slow clap, HA! That's all for now, but feel free to send me any other questions you have! XOXO